"Turn back to God! The kingdom of heaven will soon be here." (Matthew 4:17) Jesus started preaching. We human beings are created as God's beloved creatures, but have poisoned by the devil to be alienated from God and become slaves of the devil who will be destroyed in the lake of fire for his sins. All that belong to the devil have the same fate as himself. God, thus, came in this world to save human beings by death on the cross to pay the ransom for all mankind. He is the Son of God and His name is Jesus (meaning he will save His people from their sins.) God has raised Jesus from death, for God is life!
For God so loved the world that He gave His only begotten Son, that whoever believes in Him should not perish but have everlasting life. (John 3:16)


In faith, we have to turn back from our worldly life toward Jesus who is the Way to the Father, the Author of life! This is repentance in the name of Jesus. As you can see in the picture below, living worldly life is going away from our Savior Jesus to the devil, a big liar who is taking deceived mankind to hell to destroy. We must turn back to God if you want to live! Hear what Jesus said to us all:
... I tell you; but unless you repent you will all likewise perish." (Luk 13:5)
It is time to turn back to God who loves us more than we love ourselves. God is love.!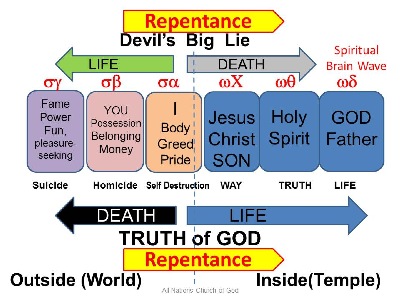 Worldly life is our normal daily life as shown by the left hand blocks, which starts with self centered 'I' then a life is built around 'I'. The devil deceives that the 'left side' is LIFE and the 'right side' DEATH. It is devil's big lie. Only repenting in Jesus' name can save! The TRUTH of God says that the normal life is DEATH. For whoever would save his life will lose it, but whoever loses his life for my sake will find it.(Mat 16:25)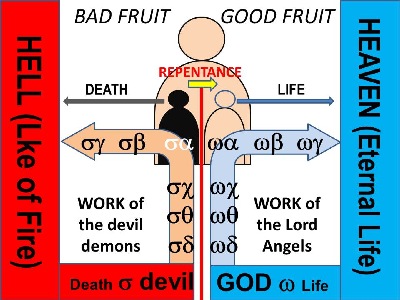 It is clear that worldly life leads to hell, while godly life to heaven. No one wants to go to hell. Heaven and Hell DO EXIST! Worldly life is the works of the devil. He who practices sin is of the devil, for the devil has been sinning from the beginning. For this reason the Son of God appeared, that He might destroy the works of the devil. (1Jn 3:8) Hear what Jesus has claimed!
All who came before Me are thieves and robbers, but the sheep did not hear them. I am the door. If anyone enters by Me, he will be saved, and will go in and go out, and will find pasture. The thief does not come except to steal, and to kill, and to destroy. I have come that they may have life, and that they may have it more abundantly. (John 10:8-10)



Pura Vida Ministerio Pastor's Seminar
Masaya, Nicaragua 8/17-8/20


Mission Nicaragua Blog - GRACE over ALL NATIONS
See also Foreign Mission page Spiritual Secrets
Brainwave Theology Chart COG Dasmarinas 12-2-07
(Rev. CS Lee) (Work of the Lord, 19min)
Heaven and Hell Shown by Lord (Lucifer) Why Do You Bind Us?
(Rev. Kim, Minsun) (Kim Minsun, Kim Yanghwan)
(Lucifer) I am the King of Hell
(Kim Minsun, Kim Yanghwan)


We are currently sharing the facility
with the Hillsborough Presbyterian
Church located at:
770 US Hwy 206 South,
Hillsborough, NJ 08844.
Please go to "Services and Events"
for details.


For any inquiries, you may call

(908)448-8586.

We are looking forward to hearing
from you. You may also contact
us via allnations@ancognj.org




If you are not familiar with our church and your first contact with us is online: We would be pleased to hear from you! Please let us know what your needs and questions are, we will be more than happy to serve. You may also sign in our guest book located in CONTACT US.
click for @mail